Professional Social Media Marketing Services
eORGANICS, a Social Media Marketing company based in Islamabad, Pakistan, has been providing top-notch Social Media Marketing Services in Pakistan and across the globe at competitive prices, as one of the pioneering companies in the industry.
Affordable And Highly Effective Social Media Marketing Services By Social Media Marketing Experts
eOrganics is one of the best Social Media Marketing & optimization companies in Pakistan offering Social Media Marketing, Social Media Advertising and management services to local and global companies. We have a team of experts in every department. Our Social Media Marketing team do the following tasks.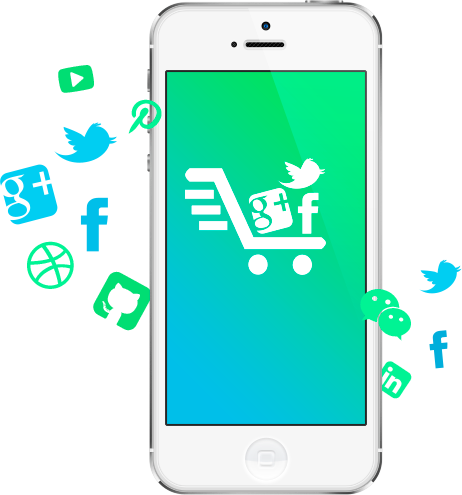 Social Media Marketing & Optimization Services
For the mass public, social media networks are a fun way to spend time and connect with your friends and family. For a social media marketing agency, these are strategic tolls that can help you achieve your business objectives and goals. Incorporating social media campaigns into your holistic marketing strategy can really help augment results and profitability. We customize your social media campaign to suit your brand image and goals. This helps us develop a cohesive marketing strategy that leads to increased growth for your business.
In today's day and time, social media governs our lives. Increasingly, more and more people are spending time using social media connecting with friends, reading up on news, following latest fashion and celebrities – all using social media. Given this, it is high time that you focus on social media marketing. It has emerged as a key marketing tool in recent years and brands or companies that forgo this opportunity are considered an anomaly. Customers are met with disbelief if they find that a certain company lacks social media presence.
Social media marketing has emerged as a leading business tool to optimize profitability and maximize publicity. We are a leading company provide social media marketing services in Pakistan. Having worked with international and national companies, we have amassed extensive experience in this field. Social media marketing is an excellent medium to advertise while remaining within budgetary constraints. Even during these recessive economic times, social media marketing remains a competitive marketing tool. It is affordable and the benefits outweigh the costs. Marketers have incorporated social media as an integral component of marketing strategies. From attaining instant international recognition for your brand to enhancing your brand image, social media marketing offers unlimited advantages. However, like any other marketing tool, this too requires meticulous planning and execution. An ill-conceived social media marketing campaign can be counterproductive and detrimental for your brand. Hence it is important to ensure you are in safe hands and have a team that watches your business interest while developing marketing campaigns. As pioneers in this field, we can assure you that our specialized team will deliver best services that benefit you optimally.
Social media marketing is not a one-time deal; rather it is an ongoing process. Given there are a number of social networking mediums, getting noticed can be a problem as your message can get lost in the clutter. We help you stand out and gain optimal benefit from our carefully tailored and managed campaigns. The marketing services provided by us will not only save you precious time but is also economical. With our extensive experience in this field, we create social media marketing plans that are holistic, cohesive and well thought out. We offer our services to clients worldwide and have worked with leading international brand names in myriad sectors. Our aim is to help you grow your business.
We have been working in this field for more than 8 years so we understand the peculiarities and idiosyncrasies that are common to this sector. We have proven records signifying our success stories whereby we have help budding businesses gain new heights. We make use of techniques that comply with international social media standards and help you achieve your professional goals. Contact us for more details and we can show you the profitability prospects that are in store for you!
Benefits of Social Media Marketing
Increases brand awareness
Social media campaigns improve your trustworthiness. It helps build a good brand image and perception. It brings a more humanizing aspect to your business as it provides for two way communication with your customers. It is also reassuring and bolsters confidence about your brand.
Stand Out From Competitors
Making use of social media helps you stand out and distinguish yourself from your competitors. This is your chance to outshine your competitors and make it your unique selling proposition. Don't let your competitors erode your market share; capitalize on social media marketing to your benefit!
The more followers you have, the more market power you enjoy. It has a bandwagon effect to it whereby people want to see what the crowd is interested in and become a part of it. This increases your followers and your customer base.
Social Media Marketing directly improves your traffic. As your social media campaign progresses, you will see more traffic directed towards your social networks.
Research has proven that repeated exposure to a message reinforces its meaning. By advertising on social media platforms, customers gain repeated exposure to your content which moves your brand to their evoke set. This is very helpful as that's what they then think of when they need a service or product related to your business.
Increase Your Business Credibility
The busier social network you have, the most authority people associate with it. Your business appears more credible, which will have a positive impact on your sales and revenues.
Google lays special stress on "social signals". The best way to benefit from
SEO
from social media marketing is to embed your Twitter feed into your website. This dynamic text will help improve the ranking of your website, resulting in more visitors and sales.
More Return On Investment
Social media campaigns ensure the best return on investment. The benefits surpass the costs, which are not exorbitant to begin with. You get access to a huge market for a meager monthly investment. Investing in social media marketing is a no brainer!
Research of Social Networks
Launch of advertising campaign
Social Networks We Use for Advertisement
YouTube is a video powerhouse and is the second largest search engine. Everyone who is anyone uses YouTube and it is a lucrative medium to drive traffic and customers.
This is an avenue you have to make use of. With more than 1.1 billion users, who wouldn't? Build your fan base, maximize exposure and reach out to an international audience with nominal expenses.
This is a super fun social media network with a strong female viewership and is visited by billions each month.
If you are a professional and looking to build brand presence on this growing avenue then we can help you make your presence felt on company pages, groups and employee accounts.
How do you distinguish yourself among 50 million tweets? That is a problem you should not have to worry about sine we take care of this. We will show you how to manage this aspect of social media without worrying about anything at all.
Snapchat is one of the newer platforms to emerge on the scene as a competitive force with 301 million monthly active users.
Our SMO & Social Media Marketing Cases
Asalamo Alykum, eOrganics was my first experience of professional social media marketing as I was always hesitant to engage with one, thinking that someone else will not be able to grasp our concept ... However, I was happily surprised that they have been able to understand the theme well and produce great graphics ... But the best part is that eOrganics is a brave organization daring to take up challenging campaigns ! Wsalam, Musawemeen Campaigns
- Umme Muhammad -
released Pakistani's first transgender movie "Shanakht" on their YouTube channel. For this we contact eOrganics for marketing. We love their promotion and will definitely work with them again. Great People!
- Muhammad Zubair Shaukat -
Working with Amir Shafi was entirely a new experience for me. But since I gave the task to his company e organics I'm satisfied with the performance timeliness and the product received is fabulous. I wish him and his team good luck a truly recommended professional firm one should work with.
- Nurjis Khan -
eOrganics and their team has efficiently helped with my website i.e. www.design051.com. My experience with them has been great and they have met all our expectations and requirements.
- Salman -
You work seriously and responsibly, easy to communicate, hope to continue to cooperate with you in the future, hope that we work smoothly, together to earn more money!
- Kety Wu -
Ready To grow your business with social media marketing services?